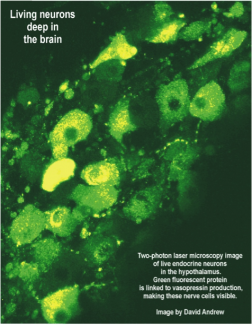 Most Faculty members in the Graduate Program in Anatomy and Cell Biology are located on the 8th and 9th floors of  Botterell Hall, overlooking scenic Lake Ontario. We are proud of our tradition of excellence in both teaching and research.  Our faculty members are internationally recognized both as scientists and educators and have successfully competed for prestigious research and teaching awards.  Our students, graduate and undergraduate, are very important to us. To reflect this we have graduate prizes which are awarded annually to deserving candidates.
Our participation in graduate teaching encompasses many different disciplines:
Medicine, Neuroscience, Nursing, Rehabilitation Therapy, Life Sciences, Kinesiology, Health Studies, and Arts and Science.  Our graduates leave Queen's to pursue many different avenues of both employment and/or further education.
Programs of Study
The Master of Science (M.Sc. Pattern l)
Our `research` M.Sc. program consists of course work, seminars, a research project, and a thesis. Two full-credit courses are required, which may include at least one from each of the following major branches of anatomy: human gross anatomy, histology & embryology, and neuroanatomy. Courses in related disciplines relevant to the student's project may be required. The student must prepare a satisfactory thesis and successfully defend it.
Administrative contact: Diane Sommerfeld
Master' of Anatomical Sciences (M.Sc. Pattern II) 
Our `teaching ` M.Sc. program spans 16-months and consists of five full-year equivalent credits (two full and six half advanced courses) in Anatomical Sciences and Practicum designed to educated students in the art of teaching and designing curricula in the Anatomical Sciences (human gross anatomy, histology, embryology, neuroanatomy). For more information on this program, please click this link.  Administrative contact: Emily Grennwood
The Doctor of Philosophy (Ph.D.)
This a research degree requiring approximately three years of study and supervised research (if subsequent to a Master of Science degree in anatomy or a related discipline) or about 4 years if the student is accepted directly into the Ph.D. program or carries out a `mini-masters`. The number of courses prescribed depends on the student's background in relation to the chosen field of study. The research and thesis will normally take up at least two thirds of the student's full-time study requirements. All doctoral students are required to take a two-part comprehensive examination within the first eighteen months of the program. 
Administrative contact: Diane Sommerfeld
Direct Admission to PhD:  Candidates with outstanding undergraduate academic record may be admitted directly into the PhD program.
Mini Master's Defense:  A student registered in the M.Sc. program with an excellent academic record and exceptional ability to perform research, may be accelerated into a Ph.D. program upon recommendation of the department and following submission and defense of a 'mini-master's' thesis. This is an abbreviated write-up of the candidate`s research carried out to date as well as a general plan to complete the Ph.D. research. It is recommended that a 'mini-master's' should be considered early in the program for students performing at excellent levels.
Departmental History
Studies in human anatomy began at Queen's when the Faculty of Medicine was established in 1854. The first professor was the colourful local surgeon John Stewart, who also delivered Queen's first ever medical lecture on 6 November 1854. For more than 100 years, the two basic divisions of the discipline were gross anatomy and surgical anatomy, which were studied through lectures and dissection. (Gross anatomy is the basic anatomy used by people in all medical fields, whereas surgical anatomy is the anatomy relevant to surgical procedures). Since the 1950s, Anatomy and Cell Biology's work has expanded into the fields of cell biology, histology (the study of organic tissues), anthropology, biomechanics and the neurosciences. The former Department of Anatomy and Cell Biology was located in the Old Medical Building from 1858 until 1986, when it moved to Botterell Hall. Although Anatomy and Cell Biology was administered by the Faculty of Health Sciences, it is also a full teaching unit in the Faculty of Arts and Science, and in 1971 it became one of the founding members of the faculty's Life Sciences program for faculty's Life Sciences program for undergraduates. In 2011, the Department of Anatomy and Cell Biology amalgamated with other the four other basic bioscience departments to become the Department of Biomedical and Molecular Sciences.