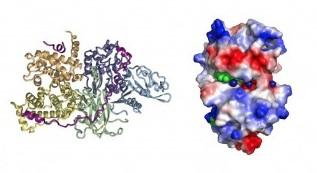 Research in this field is focused on understanding the fundamental processes of life and human disease at the cellular and molecular level.  Areas of expertise include protein structure/function analysis using biophysical techniques, NMR spectroscopy and X-ray crystallography, enzyme catalytic mechanisms, cell signalling pathways, cytoskeletal proteins, gene expression regulation and metabolism.
Faculty
S. Abraham: Haematopoietic and cancer stem cell biology
J. Allingham: Structure and function of kinesin motor proteins
B. Banfield: Molecular and cellular biology of viruses
M. G. Blennerhassett: Effects of inflammation on the nerve-smooth muscle relationship of the intestine
I. Brockhausen: Biochemical mechanisms underlying diseases such as inflammation, infections and cancer.
E.Y.W. Chan: Regulation of the autophagy/mitophagy stress response pathway
S.P.C. Cole: Anti-cancer drug resistance
C. Colpitts: Virus-host interactions and innate immune evasion by positive-sense RNA viruses
G. P. Côté: Structure and function of protein kinases
A. Craig: Signal transduction in hematopoietic cells
S. K. Davey: DNA repair mechanisms
P. L. Davies: Antifreeze proteins and calpain
Q. Duan: Pan-omics investigation of biological networks contributing to variable drug response and multifactorial diseases.
N. Ghasemlou: Immune response to nervous system injury and disease
P. A. Greer: Proto-oncogenes in cancer
B. C. Hill: Membrane bioenergetics
Z. Jia: Protein crystallography
G. Jones: Vitamin D metabolism and cytochrome P-450s
F. W. K. Kan: Sperm-egg interaction and reproductive function
C. Lohans: Antibiotic resistance, focusing on beta-lactam antibiotics and beta-lactamases
A. S. Mak: Podosomes and cell invasion
R. J. Oko: Biology of mammalian sperm components during fertilization
P. M. Petkovich: Retinoic acid signaling
W.C. Plaxton: Plant biochemistry and metabolism
S. P. Smith: NMR spectroscopy of proteins
V. Walker: Stress genes and the molecular basis of resistance