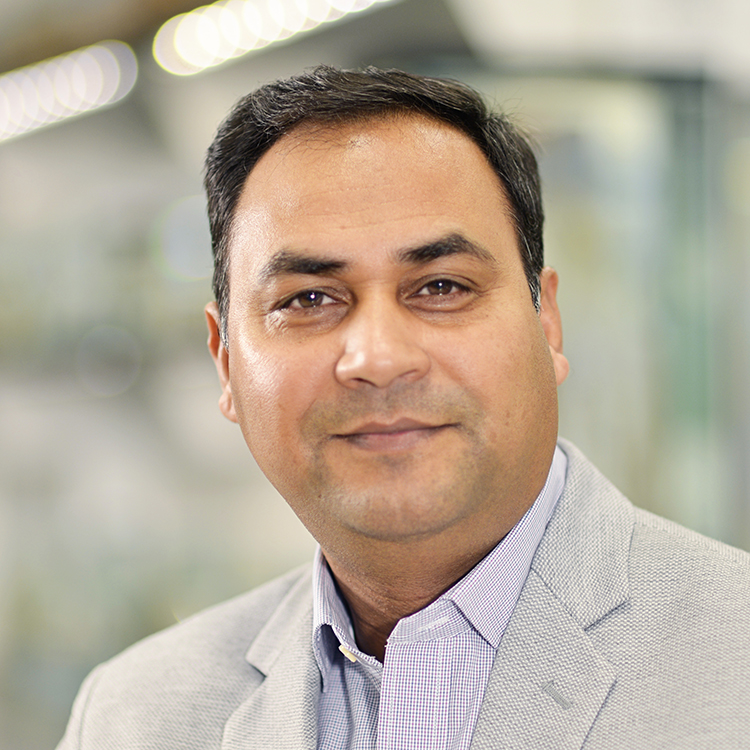 Position(s)
Contact Info
Botterell Hall,18 Stuart Street
613-533-6354
---
Faculty Bio
My research interests lie in interlinking mucosal, innate and adaptive immune responses to provide improved understanding of the pathophysiology of endometriosis. Our long-term goal is to explore therapeutic manipulation of uterine immune cells in the context of angiogenesis during pregnancy or in pathological conditions such as endometriosis.
Research Interests
Dr. Tayade's research is focused on understanding the pathophyisology of endometriosis. The unifying theme of his research program is to determine how neo-angiogenesis is regulated by endothelial and hematopoietic progenitor cells and to elucidate the mechanisms by which these cell types could be therapeutically manipulated in physiological processes such as pregnancy and in pathological conditions such as endometriosis. Specifically he is interested in defining the association of immune mechanisms with neoangiogenesis and survival of endometriotic lesions. His laboratory is investigating specific mechanisms supporting blood vessel growth in endometriosis that can be safely targeted using anti-angiogenic therapies. He has established a new mouse xenogeneic engraftment model and currently validating the efficacy of several anti-angiogenic compounds. His laboratory uses a combination of molecular biology approaches, patient-based studies and immunodeficient mouse models. Dr. Tayade is recipient of J. Christian Herr Award from the American Society for Reproductive Immunology for outstanding research contribution.
Sources of Research Funds:
Canadian Institutes of Health Research, Natural Sciences and Engineering Research Council, Canada Foundation for Innovation, and Industrial Awards from Bayer Pharmaceuticals and Primus Pharmaceuticals,
Selected Publications
Selected Publications
Khalaj, K, Miller JE, Fenn C, Ahn SH, Monsanto SP, Symons L, Koti M, Tayade C. 2017. RNA binding proteins in female reproductive pathologies. American Journal of Pathology, 187 (6): 1200-1210.
Ahn S, Singh V and Tayade C. 2017. Biomarkers in endometriosis: Opportunities and challenges. Fertility and Sterility  S0015-0282(17)30050-X. doi: 10.1016/j.fertnstert.2017.01.009.
Bidarimath M, Khalaj K, Krdili R, Kan F, Koti M. and Tayade C. 2017. Extracellular vesicle mediated intercellular communication at the porcine maternal-fetal interface: A new paradigm for conceptus-endometrial cross-talk. Scientific Reports 2017 Jan 12;7:40476. doi: 10.1038/srep40476.
Miller JE, Ahn SH, Monsanto SP, Khalaj K, Koti M, Tayade C. 2016. Implications of immune dysfunction on endometriosis associated infertility. Oncotarget 2016 doi: 10.18632/oncotarget
Khalaj K, Luna RL, Rocha de França ME, de Oliveira WH, Peixoto CA, Tayade C. RNA binding protein, tristetraprolin in a murine model of recurrent pregnancy loss. Oncotarget. 2016 Oct 9. doi: 10.18632/oncotarget
Yoo JY, Jeong JW, Fazleabas AT, Tayade C, Young SL, Lessey BA. 2016. Protein Inhibitor of Activated STAT3 (PIAS3) Is Down-Regulated in Eutopic Endometrium of Women with Endometriosis. Biology of Reproduction. 2016 May 25. pii: biolreprod.115.137158.
Ahn S, Khalaj K, Young S, Lessey B, Koti M and Tayade C. 2016. Immune-inflammation gene signatures in endometriosis patients. Fertility and Sterility S0015-0282(16)61408-5.
Edwards A, Nakamura D, Ahn S and Tayade C. 2016. Chronic effects of an anti-angiogenic thrombospondin-1 mimetic peptide, ABT-898, on female mouse reproductive outcomes. Reproductive Biology and Endocrinology 2016 Sep 7;14(1):56. doi: 10.1186/s12958-016-0192-7
Bidarimath M, Khalaj K, Kridli RT, Wessels JM, Koti M, Tayade C. Altered expression of chemokines and their receptors at porcine maternal-fetal interface during early and mid-gestational fetal loss. Cell Tissue Research. 2016 Dec;366(3):747-761.
Murphy MS, Tayade C, Smith GN. Maternal Circulating microRNAs and Pre-Eclampsia: Challenges for Diagnostic Potential. Mol Diagn Ther. 2016 Sep 16. [Epub ahead of print]
Kasawara KT, Cotechini T, Macdonald-Goodfellow SK, Surita FG, Pinto E Silva JL, Tayade C, Othman M, Ozolinš TR, Graham CH.2016. Moderate Exercise Attenuates Lipopolysaccharide-Induced Inflammation and Associated Maternal and Fetal Morbidities in Pregnant Rats. PLoS One. 2016 Apr 28;11(4):e0154405
Monsanto SP, Edwards AK, Zhou J, Nagarkatti P, Nagarkatti M, Young SL, Lessey BA, Tayade C. Surgical removal of endometriotic lesions alters local and systemic proinflammatory cytokines in endometriosis patients. Fertility and Sterility 2015 Dec 14. pii: S0015-0282(15)02131-7.
Ahn SH, Edwards AK, Singh SS, Young SL, Lessey BA, Tayade C.2015. IL-17A Contributes to the Pathogenesis of Endometriosis by Triggering Proinflammatory Cytokines and Angiogenic Growth Factors. Journal of Immunology. 2015 Sep 15;195(6):2591-600.
Kridli RT, Khalaj K, Bidarimath M, Tayade C. Placentation, maternal-fetal interface, and conceptus loss in swine. Theriogenology. 2015 Aug 7. pii: S0093-691X(15)00424-0
M Bidarimath, AK Edwards, JM Wessels, K Khalaj and C Tayade. 2015. Distinct microRNA expression in endometrial lymphocytes, endometrium and trophoblast during spontaneous porcine fetal loss. Journal of Reproductive Immunology 107:64-79.
Bidarimath M, Edwards AK, Tayade C. 2015. Laser capture microdissection for gene expression analysis. Methods in Molecular Biology. 2015;1219:115-37
K. Khalaj, J Wessels, R. Kridli, AK Edwards, M Bidarimath and C. Tayade. 2015. mRNA Destabilizing Factors: Tristetraprolin Expression at the Porcine Maternal-Fetal Interface. American Journal of Reproductive Immunology 73(5):402-16..
SooHyun Ahn, Stephany P. Monsanto, Caragh Miller, Sukhbir S. Singh, Richard Thomas and Chandrakant Tayade. Pathophysiology and Immune Dysfunction in Endometriosis. 2015. Biomed Research International , 2015:795976. doi: 10.1155/2015/795976.
Bidarimath M, Khalaj K, Wessels JM, Tayade C. MicoRNAs, immune cells and pregnancy. Cellular and Molecular Immunology. 2014 Nov;11(6):538-547.
Current Trainees
Jessica Miller (PhD Candidate)
Lindsey Symons (MSc Student)
Ryan Marks (MSc Student)
Harshavardhan Lingegowda (MSc Student)
Melissa Holmes (ANT499 Student)
Sophia Virani (Laboratory Incharge)
Graduate Student Positions Available from September 2018